Welcome to Strategos E-learning training solutions for your church staff, lay leaders and volunteer personnel
One of the challenges that churches and ministries face is training volunteers and lay leaders at a time that is convenient for all them given the wide variety of work schedules that they have. Our on-line training courses offer the opportunity for a larger group of people to receive needed training and education. E-learning online training also allows self-paced learning and schedule flexibility.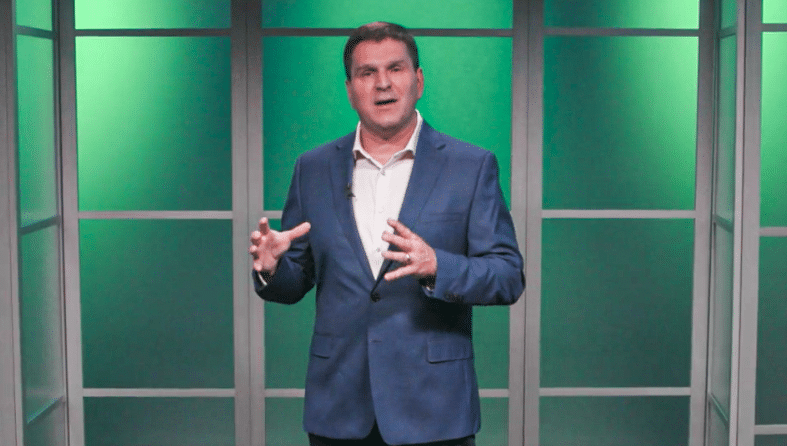 Hear what people have to say about our courses:
"Awesome job! I've been in law enforcement for 30+ years and I have attended hundreds of classes. This class was the best I have ever attended. The material was current and the instructors were dynamic and informative informative. This class confirmed our need to put together a preparedness plan and train church members."
"The delivery of instruction was very informative and professional. I was very impressed with the contents and multimedia presentations. The instructor was very knowledgeable in the field of church security. As a retired police chief, with 33 years of service and four years of military, USMC training, I learned a lot from this instructor on the security of churches. 100% satisfied with the course and instruction. Highly recommended for all churches in today's society."
"The entire presentation was outstanding! It is obvious whoever put the presentation and program together took into account. Every detail that may be experienced in techniques of teaching all pertinent learning domains were addressed. This course, validated many of current practices, but introduced new concepts as well. Identifying patterns and trends in active shooter scenarios was important!
Church Security Planning & Active Shooter Awareness Response -
Worshiping Faithfully in Uncertain Times!
Church Security Planning & Active Shooter Awareness Response -
Worshiping Faithfully in Uncertain Times!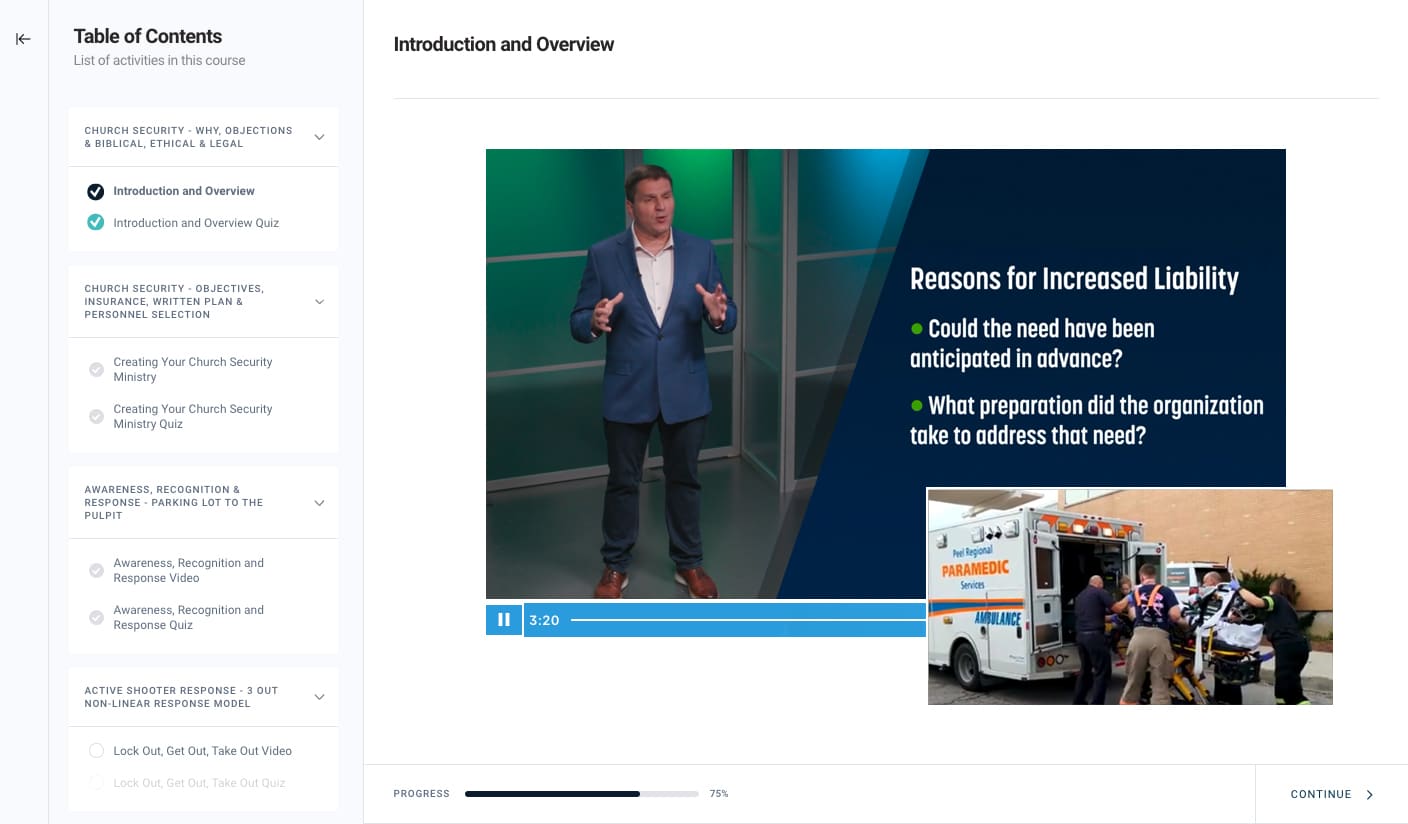 Multiple modules inside your Training
The goals and objectives of this course are to provide a solid foundation of information related to church security planning and policy, intruder issues and effective response. This on-line curriculum is conveniently segmented into 4 modules.
Church Security - Reasons Why, Objections and Biblical, Ethical & Legal Justification
This module addresses, the current realities of safety and security trends, crimes, events that churches are faced with. Additionally, the section addresses the most common questions and objections that many organizations must answer, and overcome to prepare for current realities. Church Security - Is it Biblically, Ethically and Legally right?
Church Security - Objectives, Insurance, Written Plan and Personnel Selection
This module provides information, direction and strategies to developing a church security ministry along with a written plan that addresses the goals, objectives and needs in order of priorities identified according to the risk assessment. Proper personnel selection is also a critical step is creating your church security ministry
Awareness, Recognition and Response - From the parking lot to the pulpit
This module discusses the key points in an active shooter event and addresses the topic of normalcy bias. Your understanding of normalcy bias and how to avoid it is critical to you prevailing in an active shooter situation.
Active Shooter Response - 3 Out non-linear response model
Here you will learn in detail about the 3-out approach. Get out, lock out and take out are each discussed and examples of techniques are explained and demonstrated.
Progress Tracking and Assessment with each module
At the end of each module, attendees will take an assessment quiz to test their comprehension of the material presented. All progress and scores are recorded in the system and, if training is directed by a manager or team lead, these may be viewed to make sure each team member has successfully completed the training. After successfully completing the course, each participant will receive a certificate of completion.
PURCHASE NOW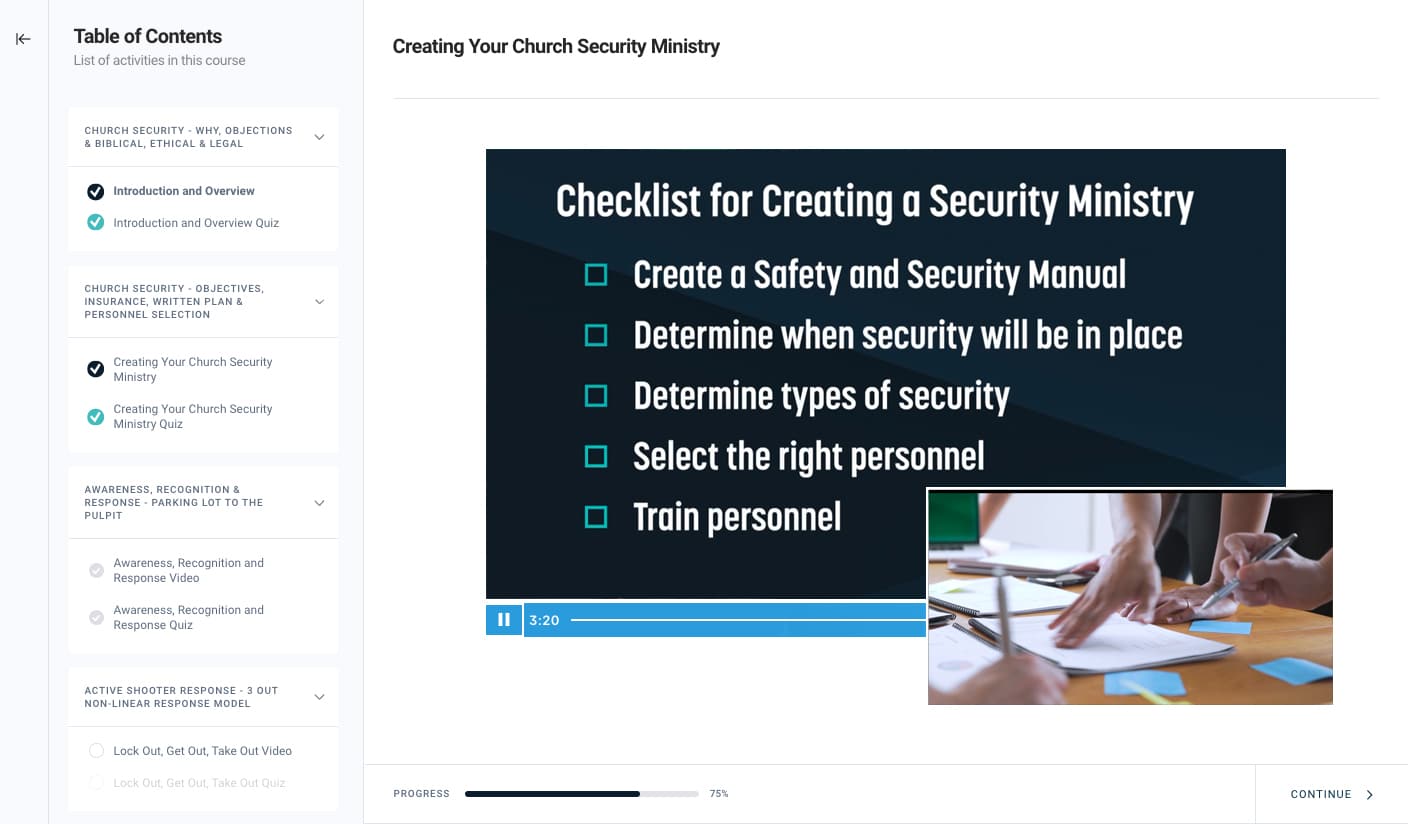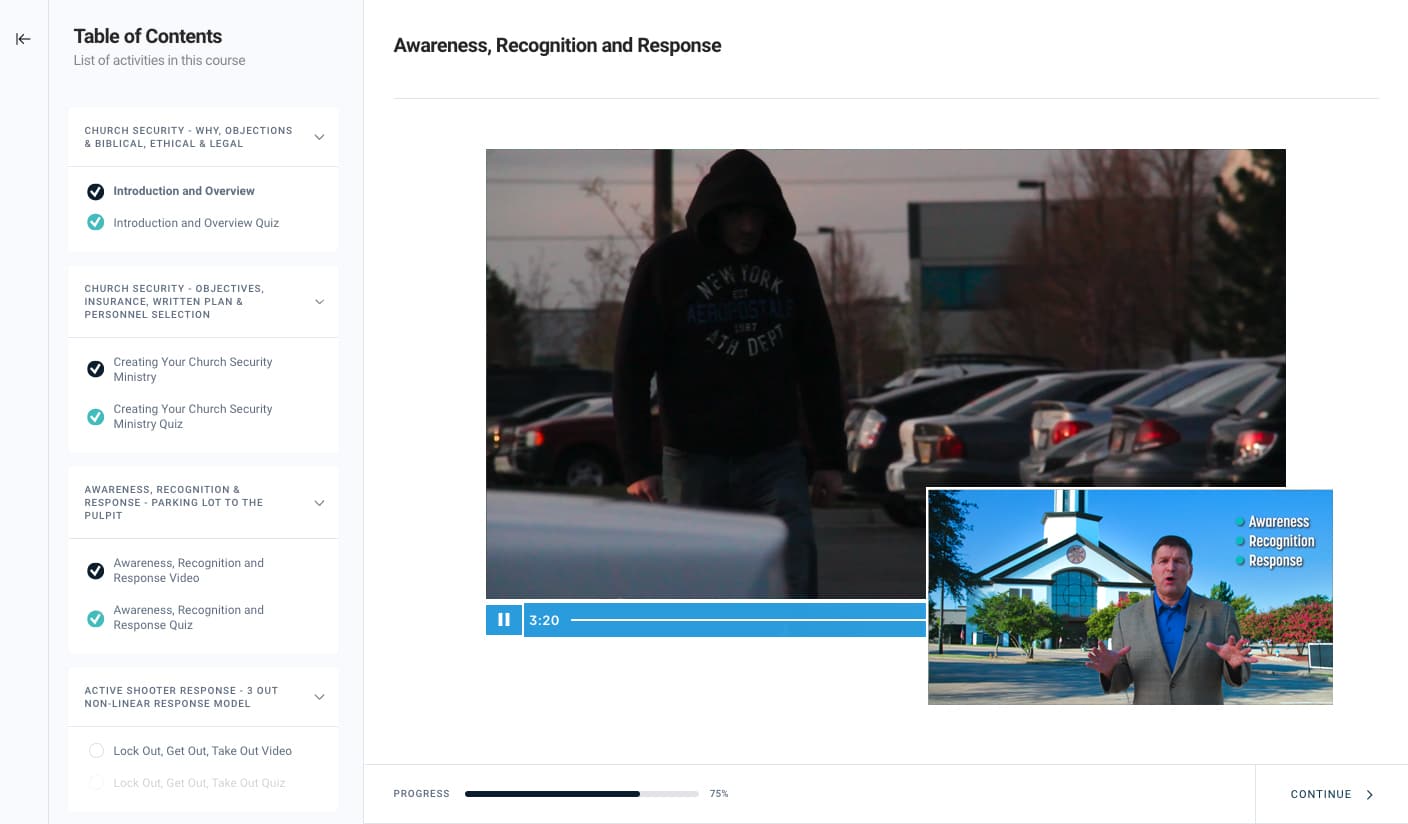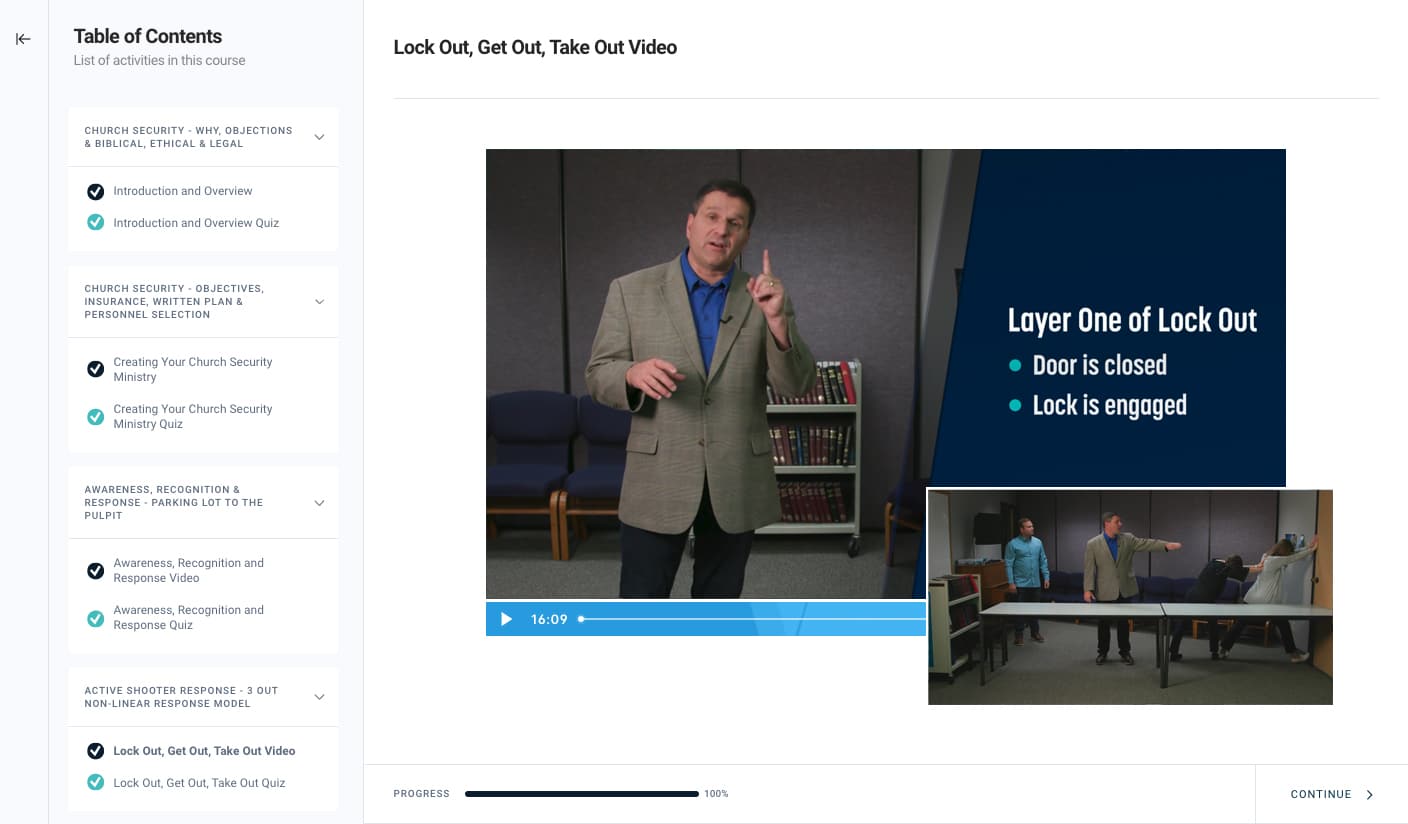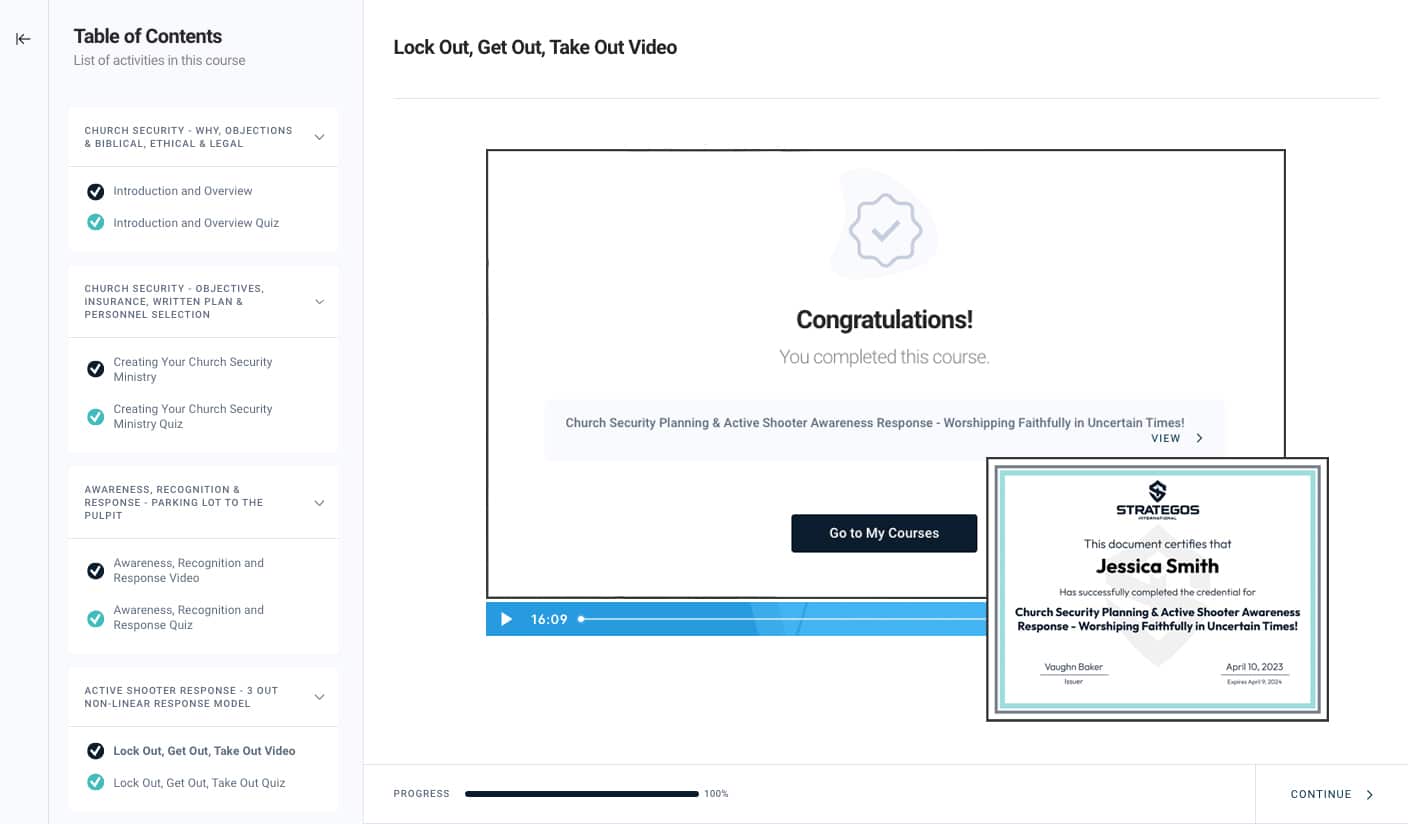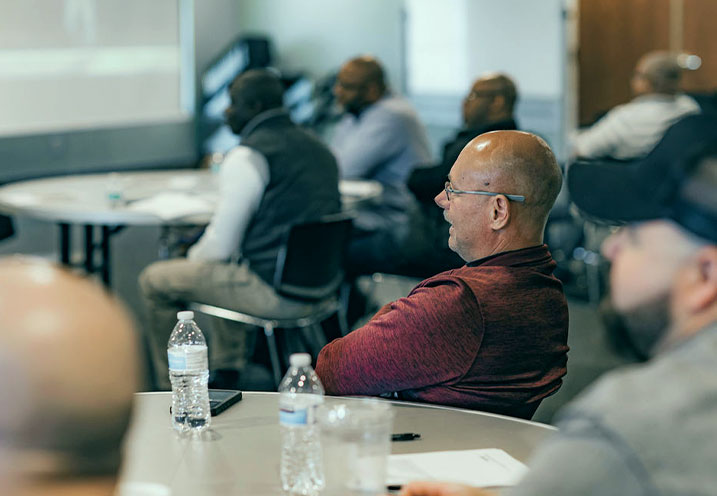 S.A.F.E. Approach Conflict Management & De-escalation
Conflict De-escalation
Interpersonal communication. Recognizing, managing and diffusing conflict and aggression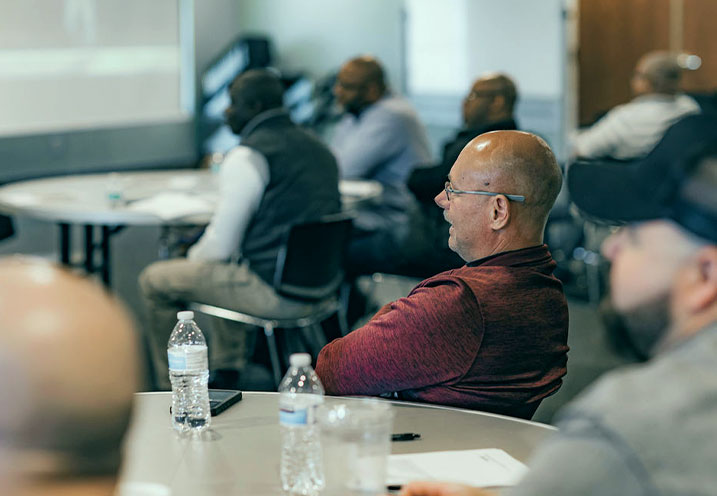 Threat ID, Detection & Deterrence
Threat ID, Detection & Deterrence
Behavioral characteristics of armed individuals and violent church attackers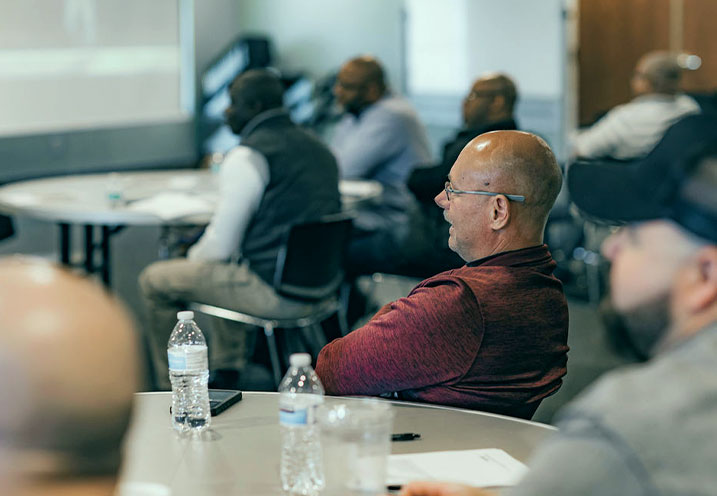 Front-Line Teams
Front-Line Teams
The role of ushers, greeters and other frontline team members
Online training for users, greeters, church security, children's, hospitality and other church staff and volunteers on safety and security topics at church.
More resources available in our book library
5.0 out of 5 stars Amazon review
Great, quick read, hitting all the important points! This is a great, quick read that hits all the major points on assessing risk in order to develop an organizational safety and security plan, as well as identifying holes in an existing plan that might need reevaluating in order to perfect the structure and operation; plus, some good content to share for any resistance to a plan as well. I found it to be a great condensed version and compliment to the Strategos church security workshop. Thank you very much for writing this...
5.0 out of 5 stars Amazon review
While none of us like to think that our church might not always be a safe place, the reality is that things are happening today that were unheard of years ago. While there are excellent seminars and training sessions to enhance the security of churches, the expense could be a problem for some as well as the ability to attend. This handbook is an excellent reference to help us be aware of things which could be indicators or potential problems. Well worth the cost.