Armed School Protectors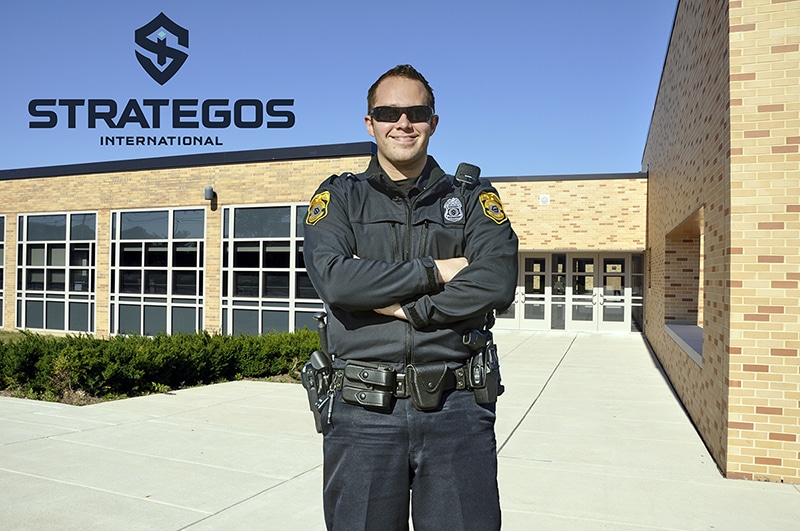 It's not just a career. It's a mission.
Join our full-time team protecting elementary school children and staff.
Do you have the heart of a protector? The desire to safeguard children and schools? If so, we invite you to apply to join our growing team of Armed School Protectors.
Overview
Strategos International is an internationally recognized leader in security consulting, training and protective services. Headquartered in Independence, Mo., Strategos has trained several hundred thousand people and provided security consulting and protection services for corporations, schools, churches and nonprofit organizations. We're partnering with the North Kansas City School Disrict to train and staff full-time Armed School Protectors for elementary schools and other school facilities where they request onsite protection.
Five reasons to consider this role
The mission: You're protecting school children and staff.
The training: It's 100% paid and provided.
The equipment: It's completely supplied.
The pay: $48,000 annually.
The benefits: Each Armed School Protector receives six weeks of PTO annually, paid training, and 50% of health insurance premiums covered by the employer.
Armed School Protectors
Job Description
Strategos International, a national leader in protective services, is seeking qualified and committed team members to serve as Armed School Protectors in the North Kansas City School District. Paid certification training is provided. Protectors serve a critical role protecting elementary school children and staff from active shooters and other violent intruders.
Previous law enforcement or military experience is ideal, but other quality applicants will be strongly considered. Each team member will be provided with a minimum of 120 hours of paid training. Once training is completed, each successful applicant will be assigned as an onsite school protector at an elementary school, school facility or at school-related events.
What's required
Eligible applicants must, at minimum, meet the following standards:
You must have a high school diploma or GED.
Training and experience in one or more of the following areas is required: police, security, U.S. military (with honorable discharge), or school discipline.
You must possess the knowledge, skills, abilities and physical attributes necessary to perform the essential functions of the position.
You must demonstrate effective human relations and communication skills.
You must comply with all school district rules, regulations and policies.
You must complete and maintain satisfactory performance on training including (but not limited to):
Use of force
Emergency response and building searches
A mentality of prevailing vs. surviving
Handcuffing and restraint devices
Weapons retention
 Ground fighting
Fundamentals of firearms marksmanship
Tactical weapons handling
Active shooter response for armed protectors
First aid/AED/CPR and crisis casualty care
You must be able to operate a computer and use software relevant to the position. This includes:
School district camera systems
Visitor management systems
Cell phones and related apps
Laptop and desktop computers.
Email, texting and use of communication apps on computers and mobile phones.
Physical Requirements
Armed School Protectors must be able to sit, stand and walk for long periods of time. They must be able to speak, hear, use hands and fingers, reach with hands and fingers, bend and stoop. Protectors must be able to walk and run up and down stairs and engage in physical confrontations in all types of climatic conditions during the day or night. They must be able to lift, drag, push and pull according to a pre-determined physical agility test. Vision must be correctable to 20/20.
Disqualifiers
You must not have been cited as unfit for duty or cited for misconduct, ethics violations, or disciplinary judgement from a position in law enforcement, the U.S. military, security, or any current or previous job.
You must pass and comply with municipal, state and federal laws for gun ownership.
You must pass and comply with municipal, state and federal laws for school security.
You must pass background checks as set by Missouri State Revised Statute 168.133.
You must pass criminal justice fingerprint and background clearances.
You must submit to and pass random drug testing, including marijuana.
You must complete and maintain the requirements to obtain CPR and AED certification.
The mission and its scope
Armed School Protectors:
Will be assigned to each school when it is in session for the regular school day. This includes summer school days if applicable (the district has two year-round schools that operate 30 extras days per year).
Will be in uniform so the public, staff and students recognize you as an Armed School Protector.
Will be provided all equipment necessary to carry out the duties of the position.
Will be authorized and licensed to provide armed security services in the state of Missouri and applicable cities and counties they are assigned to.
Compensation
$48,000 annually with opportunities for overtime.
Opportunities for advancement.
Six weeks annual PTO (paid-time-off).
Health insurance: 50% of the premium is paid by Strategos International.
Training: 120 hours of initial training and 40 hours (minimum) annual training are paid for and provided by Strategos International.
Employees' uniforms, body armor, firearm and all other accessories needed are provided.
Please send a resume and cover letter to info@strategosintl.com.
Apply Now